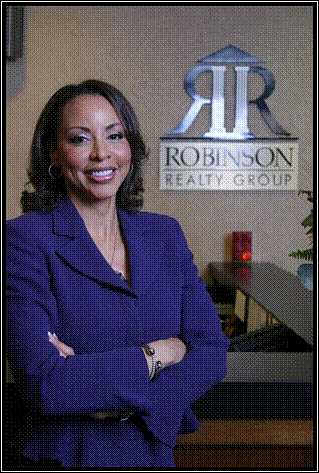 Lisa Robinson
Principal Broker/Owner
Lisa Robinson is the founder and Principal Broker of The Robinson Realty Group, a minority female owned company. The Robinson Realty Group corporate headquarters, located in Atlanta, opened in August 2002. In March 2004, The Robinson Realty Group opened its doors in Metropolitan Detroit, Ms. Robinson's hometown. Multiple locations allow the firm to facilitate real estate transactions and provide services to buyers, sellers, investors, and builders in the Atlanta and Detroit metropolitan areas. Lisa and her team have been successful in building a broad spectrum of clients with listings, sales and real estate services ranging from 100 thousand dollars to over 4.5 million dollars. The Robinson Realty Group is comprised of more than 40 licensed real estate professionals; with total gross volume in real estate services that exceeds $150 million. The Robinson Realty Group's success is built on a foundation of shared values, relationships, teamwork, and supreme delivery of services.

Prior to opening The Robinson Realty Group in Atlanta, Georgia, Lisa was an award-winning agent at a leading national real estate brokerage. During her tenure, Lisa's performance allowed the company to become Atlanta's # 1 real estate firm in gross sales. She has enjoyed tremendous success during her 17 year real estate career in Atlanta.
Ms. Robinson's prior positions include Director of Olympic Affairs Fulton County Government, where she managed the planning and construction of a $16.8 million Olympic Sporting Venue. The Robinson Realty Group has been honored with numerous awards and accolades. The firm was awarded the Atlanta Business Journal Real Estate Industry Award, Atlanta Board of Realtors Top 20 in metro Atlanta, Atlanta Board of Realtors Phoenix Award recipient and Life Member Multi-Million Dollar Producer, Communities Magazine Top 100 Realtors in Atlanta. Lisa was named the Atlanta Business League's 2006 Entrepreneur of the Year and was also named among the Most Influential African American Women in Atlanta by the Atlanta Business League for 2007, 2008, 2009, 2010 and Who's Who in Black Atlanta. Some of The Robinson Realty Group's prestigious clients include: Vicki Palmer - Coca Cola Enterprises, Sylvia Anderson President - AT&T, Rosalind Brewer -President, Wal-Mart, Chris Womack - Georgia Power, Julius Erving Sr., Usher Raymond, Jermaine Dupri and Janet Jackson, Atlanta Hawks Joe Johnson, Josh Smith, Al Horford and Steve & Marjorie Harvey.
The Robinson Realty Group enjoys membership at The Atlanta Urban League, Atlanta Business League and Atlanta& Cobb Board of Realtors. Ms. Robinson is currently a member of the Board of Directors of Shareef Adbur Rahim's Future Foundation, an at risk youth development center for inner city youth in Atlanta.